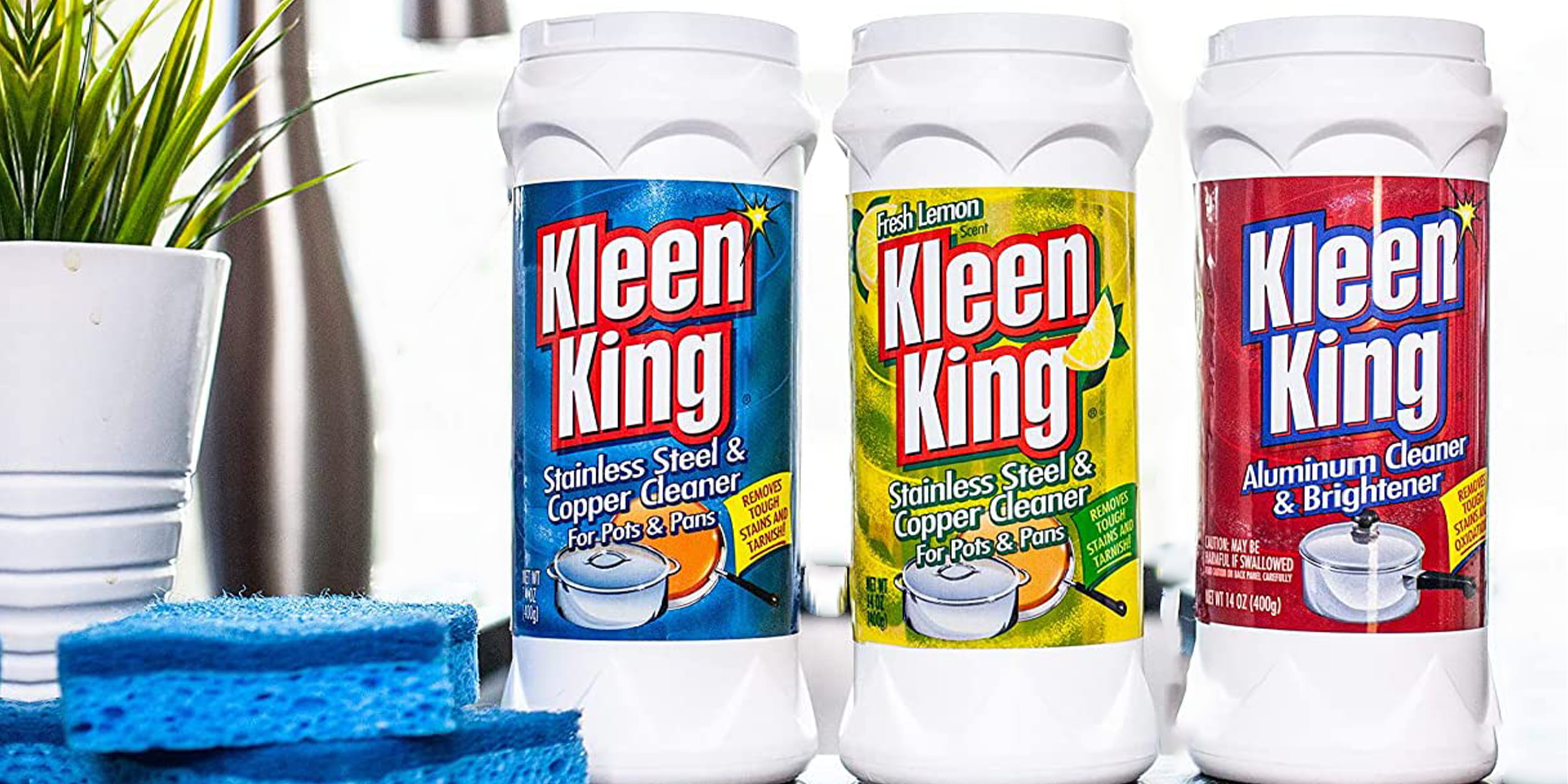 Kleen King is Easy to Use
Wash item or surface area and rinse.
Apply Kleen King with a wet paper towel or sponge.
Clean thoroughly and rinse under faucet, not in detergent.
Rub surface while rinsing to activate protective anti-tarnish coating.
Wipe dry immediately.
Do not use on lacquered or highly polished surfaces. Use only as directed.
What to Look For in a Metal Cleaner
Does your cookware still look as bright and shiny as it did when you bought it, or has it begun to show normal wear and tear? High quality cookware is a big investment, so you'll want to keep it in great condition. Rainbow color spots and dark blotches on copper or stainless steel are caused by overheating and mineral oxidation from water and vegetables. These oxidation stains cannot be removed with ordinary cleansers. Kleen King removes stains quickly, without heavy scrubbing or scratching.
Criteria of a Good Metal Cleaner
Abrasives are necessary for effective cleaning of cooked or baked-on food, but should not be so abrasive that they scratch.
Should remove tarnish quickly, leaving a longer lasting shine.
Use non-acidic ingredients, which can be harmful to the environment or to hands. Some competitive products use acids that are considered poisonous or even unlawful if sold for use with cookware.
A good detergent should be part of the formula to effectively wash away cooking oil residue.
Metal discoloration or tarnish caused by metal oxides are removed by abrasive additives that aid the chemical action and speed the cleaning process. Metal cleaners differ from each other by the type and quantity of acidic ingredients used.
Kleen King is safe and non-toxic, and can be used with confidence on stainless steel and copper cookware, chrome, sinks, tile and fixtures around the house.